MULTI-MASTER is a family of tools with shanks and unique interchangeable heads for a variety of milling applications, including ball nose, straight shoulder, and slitting applications.
Indexing is fast and convenient due to the threaded connection.
Since the tool is not removed from the machine, there is no setup time for head replacement.
Click to Flip Pages with Flash
Click to View on iPad
Click to Download to Your Computer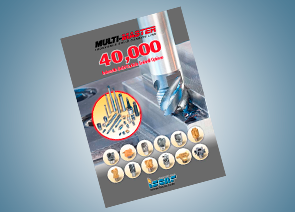 The CAMFIX quick change high precision system provides many advantages. It's coupling rigidity enables utilization of the maximum power of the machine. As the tools are relatively small, there is all-over easier handling. The CAMFIX enables multi-task machining with a wide range of optimized tools. Assembling tools comprising a variety of design characteristics and lengths creates a multitude of possibilities and allowing for significant stock reduction.
Click to Flip Pages with Flash
Click to View on iPad
Click to Download to Your Computer